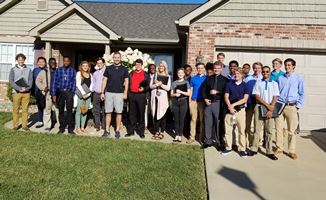 The Belleville CEO students learned how powerful connections can be to a business as they visited an earbud entrepreneur, took a tour of Althoff Catholic High School as they strive toward their capital campaign of $2.4 million, as well as their own work on their badge project.
Belleville CEO Calendar
Add this calendar to your iPhone
Print Calendar
---
Categories
Latest News
---
News Archive
---
Get Involved in CEO
The manner in which the CEO program is funded is critical to its success and sustainability. All funds raised are used exclusively for the Belleville CEO program. To participate, a 3-year $1000 per year commitment is required. Business Partner Investors commitments of time and energy are also critical to the program's success. Contributions may be tax deductible, as our organization is a 501(c)(3) not for profit organization.
When we are not touring local businesses, we need a place to host the class. During that time, the 22 CEO students and their Facilitator would meet at your site where they would also have guest speakers and guests from the community attend. Hosting requires a facility with internet access and adequately accommodates up to 27 people.
We are looking for people to share real-life stories about the concepts of running a business, from strategic thinking, product development to marketing, and cash flow management. Also, sharing your personal successes and failures are what recent classes have enjoyed the most.

If you are interested in participating in any of the above programs, use our contact form to send us a message
---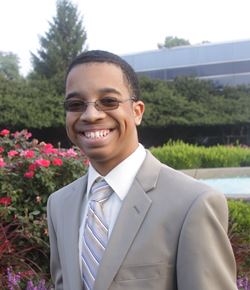 Kaleb Leatherman
About Me
I am currently a senior at Althoff Catholic High School. Ever since I was young, I dreamed of owning my own business and getting my name out in the open. I hoped to get closer to this dream, by taking the CEO class and learning how to efficiently work in business.
I am a proud member of the National Honor Society and participant of the Youth Salute program. I am very active in my church, as a Junior Deacon and head of the Junior Media Ministry. I volunteer in my church's community fair and back to school bash. When it comes to volunteering, I have much experience. Each year, I participate in the Spring Cleanup at my school as well as participate in soup bus, an activity that feeds those in need. I have been a part of my school's bowling team since my freshman year, and in my junior year, was able to make it on the varsity team. Prior to this, I was named the captain of the junior varsity team, where I had the responsibility of leading my teammates. For around six months, I have worked as a back waiter for the St. Clair Country Club. This job experience has led me to being able to meet the leaders and families of local businesses, and instill a sense of familiarity.
Like an excellent student should be, I am focused, punctual, and always ready to learn and improve. My plans for the future include successfully getting admitted into college, and then graduating with a degree in either/both business management and marketing. My ultimate goal is to start and run a successful business that would not only make me very profitable, but well known. I want to lead a life that will make me be remembered.
Learn More about Kaleb
---
Belleville CEO Business
Investors