A Big Thank You to our 3rd Qtr. Host, Mathis, Marifian & Richter
CEO Guest Speakers
---
Save the Date - Trade Show Coming Soon!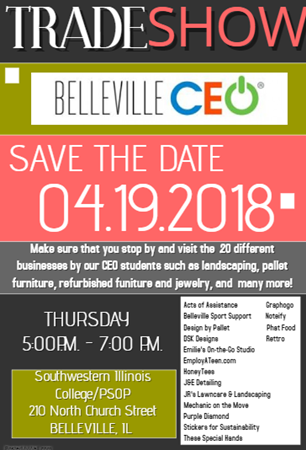 The Belleville CEO students would like to invite you to their Trade Show on April 19 from 5:00 p.m. to 7:00 p.m. at the Southwestern Illinois College PSOP Center (210 North Church Street, Belleville).  There will be 20 businesses showcased that evening such as:
Acts of Assistance
Belleville Sport Support
Design by Pallet
DSK Designs
Emilie's On-the-Go Studio
EmployATeen.com
GameFlesh
Graphogo
HoneyTees
J&E Detailing
JR's Lawncare and Landscaping
Mechanic on the Move
Noteify   
Fat Food
Purple Diamond
Rettro
Stickers for Sustainability
These Special Hands
---
Belleville Sport Support
CEO Jacob Gall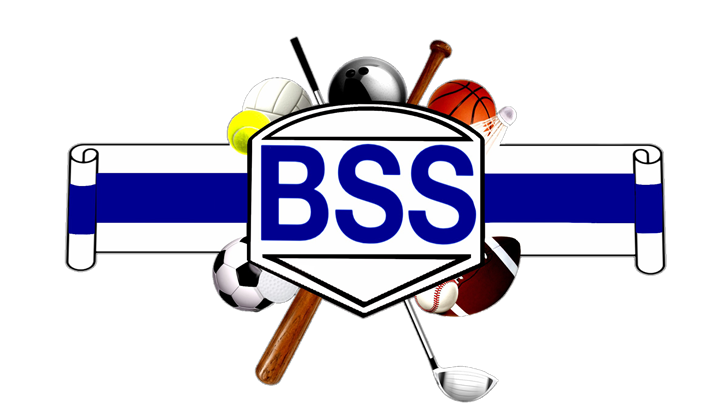 CEO Jacob Gall launched his business called Belleville Sport Support in early November 2017. Jacob designed an Althoff volleyball postseason T-Shirt with the image of one of the team's players, and another design with a volleyball. Both designs also included the slogan "YOU JUST GOT GALL'D."   Belleville Sport Support is designing t-shirts that will be sold to Belleville's high school students who support their sports teams. Check out his designs at the upcoming Trade Show on April 19!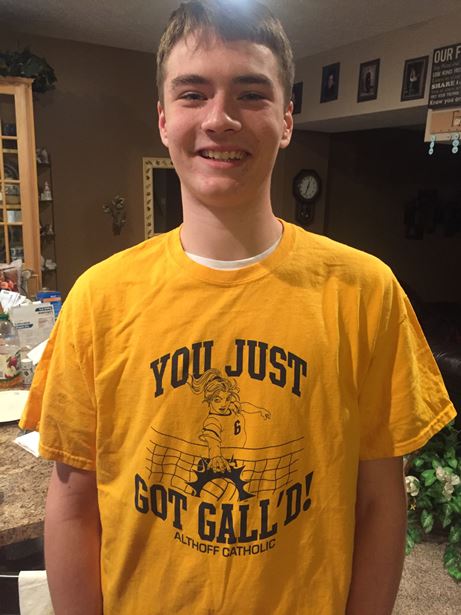 ---
Mentoring Monday
The Belleville CEO class would like to thank Matt Warren, Josh Lane and Josh McDermott for stopping by Mentoring Monday. While Mr. Lane was meeting with his mentee, Teonna Davis and Mr. McDermott was meeting with his mentee, Kaleb Leatherman, the remainder of the class talked about pricing and how to determine the price points on their products and services with their class mentor, Matt Warren.  We also discussed what factors into their cost per unit.
---
Mathis, Marifian & Richter
Pat Mathis, Kevin Richter & Amy Randazzo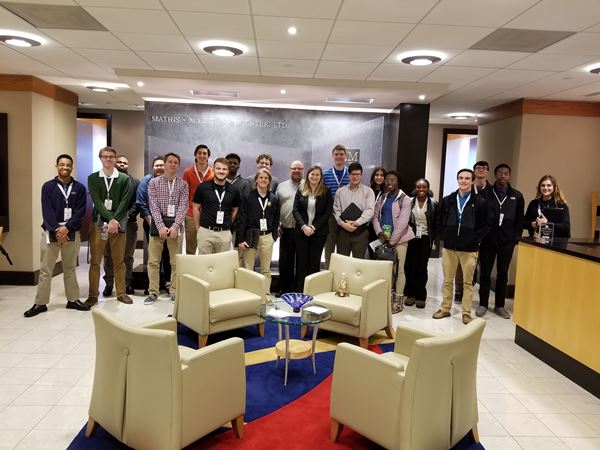 This Tuesday, the class met with the owners of our home base, Mathis, Marifian, and Richter. We had the pleasure of meeting two of the partners, Mr. Pat Mathis and Mr. Kevin Richter as well as one of their associates, Ms. Amy Randazzo. Initially, Mr. Mathis and Mr. Richter talked about their business and what kind of cases they handle. They told us all about what it is like to work in a firm that is focused on business law. After a period of question and answer time, Mr. Richter and Ms. Randazzo gave us a scenario.  The class was presented with a fake person and their business and we got to walk through all the steps and find the potential problems with what that person was doing and what they should do to avoid breaking the law and possibly losing their business or product.  We would like to thank Mr. Mathis, Mr. Richter and Ms. Randazzo for not only spending the morning with us but for hosting us this third quarter.  This was our last week using their 2nd floor conference room at Mathis, Marifian and Richter.
 Written by Tristen Missey
---
SBDC SIUE
Joann DiMaggio-May and Adrine Krikorian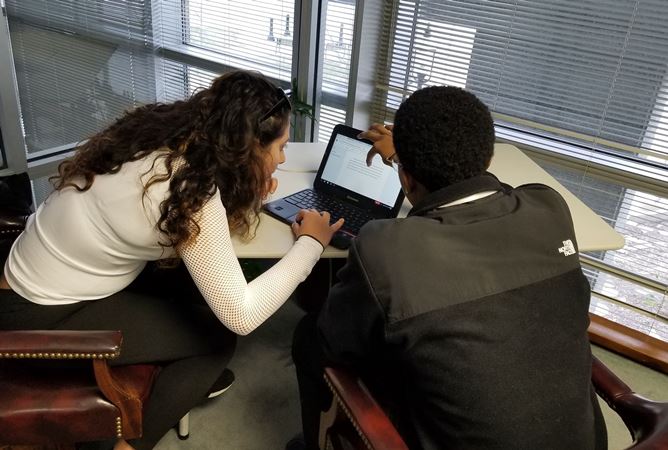 Mrs. Jo Ann DiMaggio-May joined the class again on Wednesday as well as her grad assistant, Ms. Adrine Krikorian, to help us work on our business plans. Mrs. DiMaggio-May discussed the importance of having a good personal business plan to reach success. She collected information for each of us to utilize in the marketing and competition sections of our plans. They sat down with each student and went over their business concepts, and what their target markets are, and reviewed the student's draft business plan. Mrs. DiMaggio-May had previously helped us with our class business plan, and so we have a better idea of how to complete our own plans.   
Written by Josie Proffitt
---
BreakThru Beverage Belleville, LLC
Hamilton Callison, Director of Finance and Operations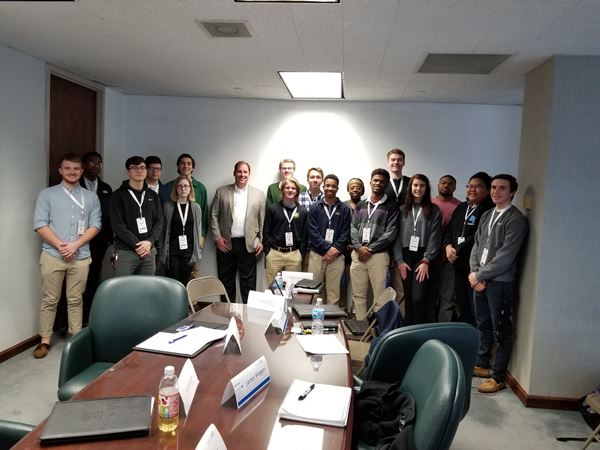 On Friday, the Belleville CEO class met with Hamilton Callison with BreakThru Beverage. BreakThru Beverage is the one of the world's top luxury and premium wine and beverage distributors. This business is a family-owned business that was started by Mr. Callison's grandfather in 1933. Mr. Callison said that he did not want to jump straight into the family business.  His father actually encouraged him to work at another company in the business before coming to work for the family business. He wanted to make himself knowledgeable about the business before going into it in order to make the family business better overall. Mr. Callison stressed to the CEO class that people do business with people who they have formed relationships with. Mr. Callison gave away some very useful tips that are definitely going to help the Belleville CEO class with their current and future businesses. The Belleville CEO would gratefully like to thank Mr. Callison for coming to meet with us and sharing your knowledge with us.
 Written by Martrell Robinson
---
Student Journal Highlights for this week
---
Alumni Spotlight Entries for this week
Update on Sandy Amorado:

Sandy is currently studying abroad in Madrid.  She sent Mrs. Siebers a note this week saying, " I just want to inform you that I recently accepted an internship at Northwestern Mutual Group in Fairview Heights with Roger and Chris Lowery. This would not be possible if I did not use my CEO connections, so I would just like to say thank you to you and the program for helping me get to where I am today. Thank you. Madrid is beautiful and I still remember that I got voted "Most Likely to Go the Farthest...Literally" and here I am. So, thank you."

Sandy has been makings videos for each month. You can watch these videos of her journey in Madrid and exploring the world! She said that she is having a wonderful time and she wishes this class lots of luck from Madrid!

 January: https://youtu.be/PNRo14LGP68

February:https://youtu.be/UbTrgtXsfrs

Cassandra Amorado
- Class of 2016
---