Week 1 - August 17-21
Guest Speaker, Ms. Rebecca Ray
Director of Corporate Public Relations for Allsup 
Allsup - Investor
Student Erik Faulkner introduced Ms. Ray who shared with the students the history of Allsup and how it has evolved over the last 31 years.  They learned that Allsup began as the nation's first private, nationwide non-attorney service helping people apply for Social Security Disability Insurance benefits and that they have helped more than 250,000 people to date.   The theme that resonated with the students was "Passion with a Purpose."  Ms. Ray shared a little of Mr. Allsup's story of why he was passionate about helping people in this matter.   She then encouraged the students to find their passion or what inspires them through a number of activities.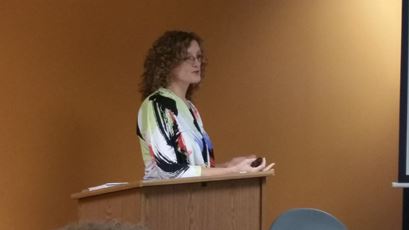 Ms. Rebecca Ray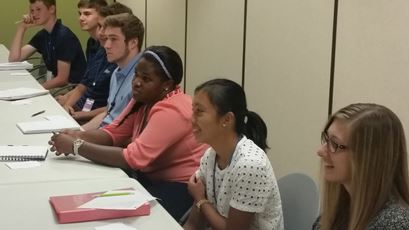 CEO Students, David Rauckman, Erik Faulkner, Stephen Toenjes, Alan Plantz, Aliyah Gillepsie, Cassandra Amorado, and Heather Gosebrink.
---
Vertical Performance on Team Building
Mr. Jim Schneider, President and Founder
Mr. Lynn Clapp, VP Team Member
Vertical Performance, Inc.
Friends of the CEO Program
Students Melony Allen and Jessica Stern introduced Mr. Jim Schneider and Mr. Lynn Clapp from Vertical Performance who ran the students through a number of teambuilding exercises.  Central themes were Communication, Community, and Culture.  Activities focused on commitment and problem-solving.  These activities got the students out of their comfort zone, got then better acquainted, helped them listen to each other, helped them develop their own class culture, and eventually allowed them to make a commitment as a class to stand united.  Each student made an individual commitment to help each other succeed in this program and leave no one behind.   #BellevilleCEOUnites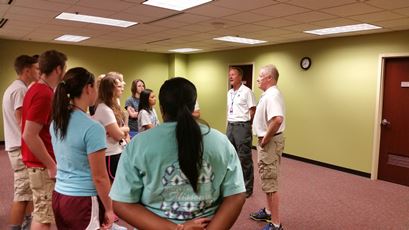 Mr. Clapp and Mr. Schneider discussed inclusivity.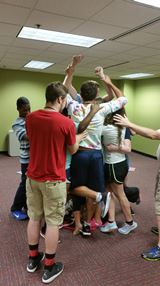 Learning to work together!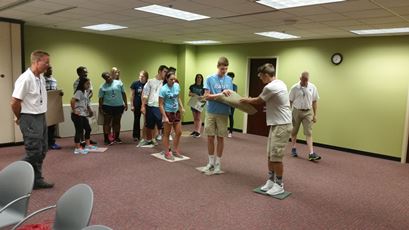 Working out the strategy of the Flying Turtles activity.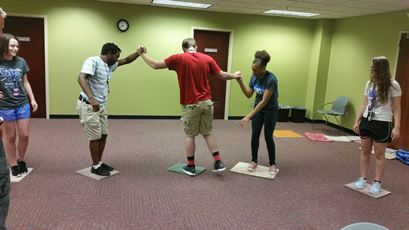 Malik and Melony helped guide Alan since he had to keep his eyes closed during this activity.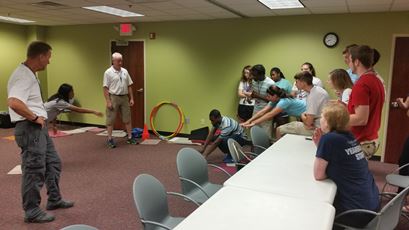 Sandy was NOT left behind. CEO students used teamwork to conquer this activity. Great job!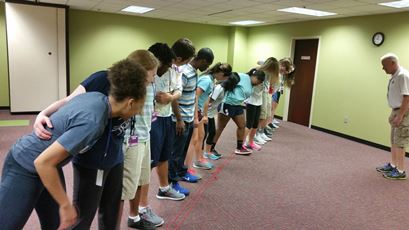 Working together and standing united in the end!
---
Belleville News-Democrat Tour
Mr. Jay Tebbe, President & Publisher
Mr. Jeffry Couch, Editor & Vice President
Mr. Don Bradley, Production Director
Ms. Teresa Buelt, Online Sales Manager
Belleville News-Democrat – Investor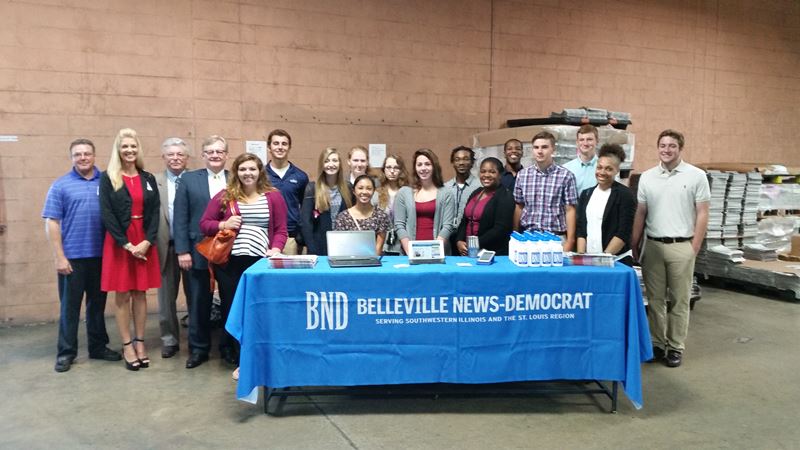 On Thursday, the CEO students toured the Belleville News-Democrat complex where the BND newspaper is actually manufactured each week along with several area local newspapers and inserts.  Mr. Tebbe, Mr. Couch, and Mr. Bradley discussed the history of the paper, the manufacturing process, the delivery process, and a reporter's daily duties.  Ms. Buehlt  shared with the students the importance of online revenue.  The students were impressed that the BND is the 6th largest paper in the state.  Thanks BND for being our first tour!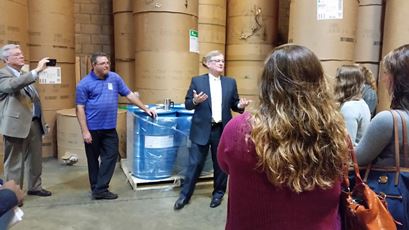 Mr. Tebbe shared the history of the BND from when it started in 1858 to its current owner, McClatchy Newspaper Inc.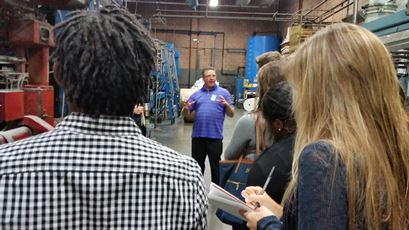 Mr. Bradley showed the students the manufacturing equipment that the paper is printed on each day.
---
Guest Speaker, Mrs. Susan Hanfland
Education Liaison
Midland Institute for Entrepreneurship
Student Malik Marks-McRath introduced Mrs. Susan Hanfland who walked the students and board members through the True Colors personality assessment.  Mrs. Hanfland then had the students go through a number of exercises to help everyone understand the results of the assessment.  This information will allow us to connect with, understand, and communicate more effectively with each other in the future.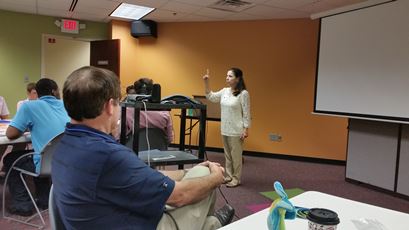 Mrs. Susan Hanfland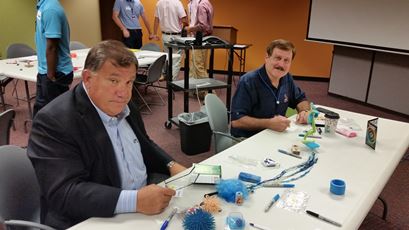 Board Members Ed Hoering and Kevin Pesko came to class on Friday to participate in the True Colors Activity.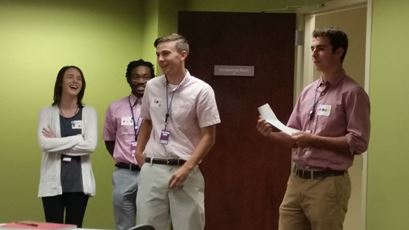 Hannah, Malik, Erik, and Stephen tried to sell us on a True Color of Gold!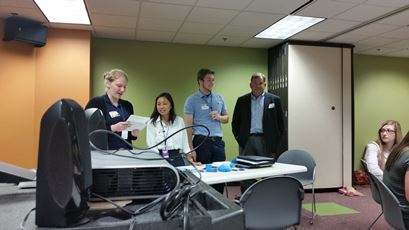 While Jessica, Sandy, Alan, and Mr. Hoering tried to convince us to come over to the "Blue" side with hugs!
---
CEO Students in the Spotlight
"I believe this CEO class is going to turn me into a successful business man. One thing I learned this first week is that I'm going to have to come out of my shell. I'm going to have to put my shyness and fear aside and talk in front of people as well as ask questions."      
Montez Douglas
"This theme for this week is passion with a purpose.  I realized that I can not do anything without passion.  With a lack of passion, I will not perform to the best to my ability.  I need passion for everything I do in life.  It will be the foundation of when I go into the real world and start my career in business.  I am hoping I will continue to grow to be open-minded to different perspectives rather than seeing what is on the surface. I can't wait for what else is in store for the CEO Class!"                                                                                                           
Sandy Amorado
---