Success Sometimes Takes Many Years of Sacrifice
CEO Business Visits
CEO Guest Speakers
---
St. Louis Community Foundation
Mrs. Wendy Witte, Donor Services Manager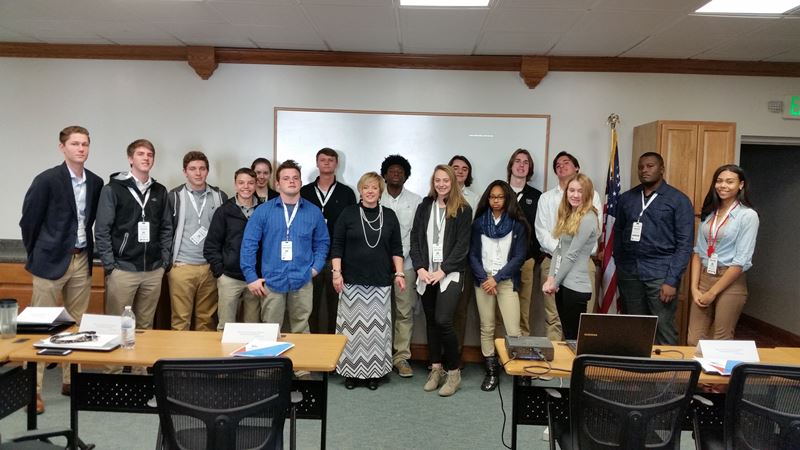 On Tuesday, our class was visited by Mrs. Wendy Witte from the Greater St. Louis Community Foundation. She taught us all about the foundation and what it does. She helped us tremendously with our class business by teaching us about taxes and charitable donations. Our class is considered tax exempt, so she helped us figure out how much money can be considered a charitable donation for those companies who sponsor our class business. She also explained the benefits of charitable donations and how it could be an extra incentive to potential sponsors. We sincerely want to thank Mrs. Witte for all her help that she has given to us.
Written by Timothy Donaho
---
Barcom Security
Mr. Mark Bartle, Owner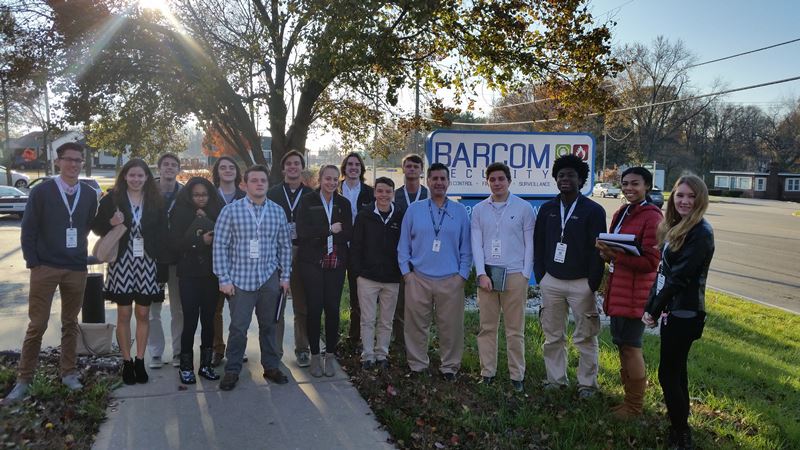 On Thursday, we met with Mark Bartle of Barcom Security.  Barcom is Belleville CEO's home base for the second quarter.  It was exciting to get the background of Barcom.  Mr. Bartle stresses the importance of a good, positive attitude around the workplace.  Having a positive mental attitude is very important.  He also taught us that communication and customer satisfaction are essential.  Mr. Bartle also gave us a tour of the main Barcom building.  Thank you, Mr. Bartle, for letting us use Barcom as a home base and for speaking to us about your business.
Written by Stephen Waltrip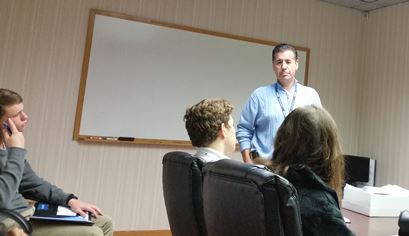 Mr. Bartle shared the history of Barcom and how the business really struggled for about ten years.
Mr. Bartle shared that 10% of his business is home security and 90% is from commercial security services. Some of their biggest customers are: Emerson, Pfizer, Monsanto, Memorial Hospital in Springfield and Shop n Save.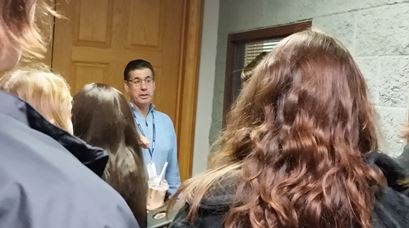 Mr. Bartle told the students that if the power went out, they have a generator and 3 days worth of batteries.
---
Around the Fountain: A Belleville CEO Experience
Business Conference & Trade Show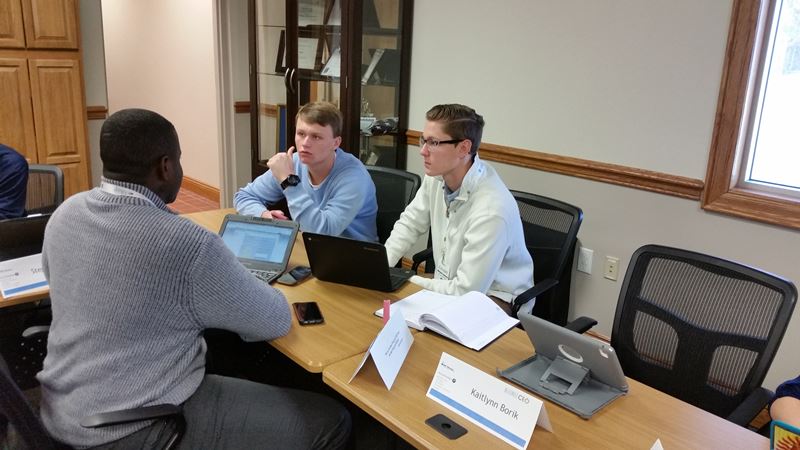 Devin, Jaylen and Michael working on a game plan for which companies they will visit next Thursday.
The students have all been busy working on their class business.  Austin, Carson, and Kaitlynn were able to meet with the director of the Scottish Rite to finalize the price and work out some miscellaneous issues. Cole created an informative flyer that will hopefully be approved and distributed to various companies on Thursday.  We went live with Eventbrite for ordering tickets to the conference with the help of Jaylen and Austin.  Everyone have been busy emailing friends and various business contacts informing them about the conference.
Thank You to our Current Sponsors
We would like to thank our Gold sponsors:  HomeBrite Ace Hardware (Downtown Belleville), CliftonLarsonAllen, and Sonoma Capital, LLC.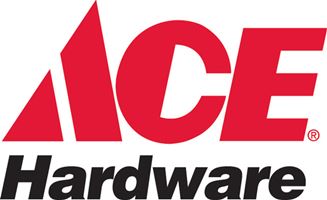 Sonoma Capital, LLC
Belleville CEO would like to thank our Silver Sponsor:  Kaskaskia Engineering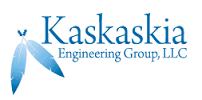 Next, we would like to thank our Bronze Sponsors:  Holland Construction, Empire Comfort Systems, and LeChien and LeChien



Belleville CEO would also like to thank our current booth sponsor:  Papa Murphy's

Several companies have already donated items to the Silent Auction:
HomeBrite Ace Hardware
Botantical Gardens
Slackers
---
Sponsorships Available
GOLD SPONSORSHIP - $450
Logo will appear in slideshow
Logo will be in program
Logo in weekly newsletter
Logo on website
Logo on gold banner
Logo on a chocolate fountain
Name announced
2 tickets
 Investing in your community
*Slide show will play during the event
*Banners will be displayed around the wall of the room
*Free tickets allow you to come and enjoy the event
*Names will be announced at the beginning of the event to thank the businesses for their investment
SILVER SPONSORSHIP - $300
Logo will appear in slideshow
Logo in program
Logo in weekly newsletter
Logo on website
Logo on silver banner
1 ticket
Growing your community
BRONZE SPONSORSHIP - $150
Logo will appear in slideshow
Logo will be in program
Logo will appear in weekly newsletter
Logo on website
Supporting your community
BOOTHS - $300
Come to the event and listen to the speakers while being able to advertise for your business! Hand out samples and information while networking with potential business customers or partners.  
The booth includes:
 *Admission for two
*6 foot table included in price
SILENT AUCTION
 You can also contribute to the event by donating a basket to the silent auction. Donations are appreciated and the donor's name or logo will be on the bid sheet.
 **Please do not include alcohol in a donated basket**
If You Are Interested In Any Sponsorships, Booths, Or Contributing To The Silent Auctions, Please Contact Carson Gamboe At (618) 604-8211 Or Cgamboe@Gmail.Com.
---
How Can I Purchase a Ticket?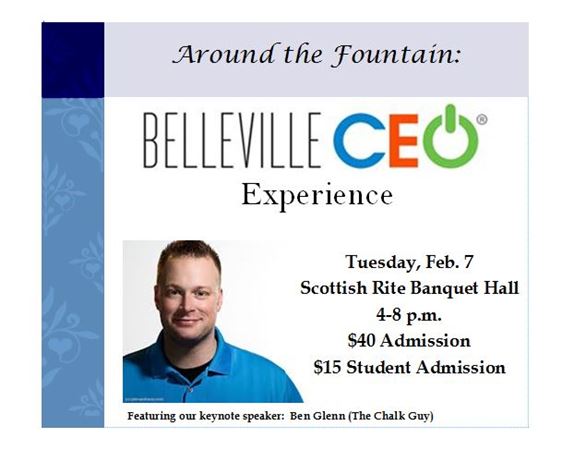 Newsletter Image
Tickets are NOW available through EventBrite.com with search words, Around the Fountain.  
Ticket Price:  $40 
Student Price:  $15  (email BellevilleCEO2017@bths201.org to get Promotional code)
The conference and trade show will also be a time to network with other business people in the community.  The keynote speaker will be Ben Glenn, the Chalk Guy.  If you have never seen Mr. Glenn speak, then be ready to be energized and uplifted by his stories about obstacles that he has overcome during his life.  At the end, you will be in awe of his creative ability to turn an empty black canvas into a beautiful masterpiece within a few minutes.  Perfect theme for the Belleville CEO's first business conference, Around the Fountain.  So buy your tickets now!
---
---
Student Journal Highlights for this week
---