A Time to Disconnect
CEO Business Visits
CEO Guest Speakers
---
Mr. Tom Farquhar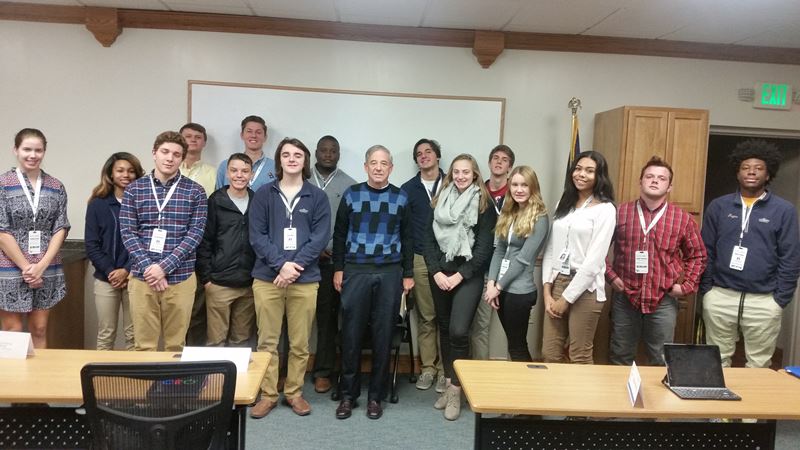 Coming from a foundation who works with foundries, Mr. Tom Farquhar came and spoke with us about entrepreneurship. He shared his background of a failing foundry that he started with his father.  Mr. Farquhar then acquired a job that you don't hear about every day. He is a manufacturer's representative.  By doing so, he can build his own schedule and work as he pleases. It was interesting how he can work both sides of the fence with his manufacturers and his customers. Mr. Farquhar stressed that you need to know the technicalities of your products so you can be the best rounded salesman. With tons of benefits such as no cap on your income and flexibe schedule, there are also downfalls by being a manufacturer's representative.  Unfortunately, you are paid solely on commissions.  Mr. Farquhar believes that good businesses are full of people who are "Well organized over brilliance."  Thank you, Mr. Farquhar, for being one of our investors and spending the morning with us on Monday.  
Written by Austin Thurman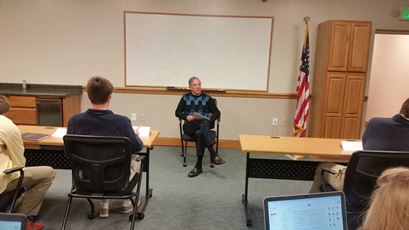 Mr. Farquhar shared with the students about the benefits of being a manufacturer's rep such as: You are your own boss; flexibility, no cap on your income, and everyday is a different experience.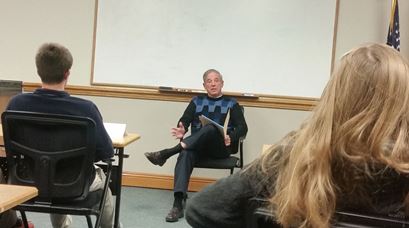 Mr. Farquhar also shared the downside of his profession: have to be self-motivated, have to be very organized, and there is no prestige in being a manufacturer's rep.
---
King's House
Deacon Doug & Mrs. Geri Boyer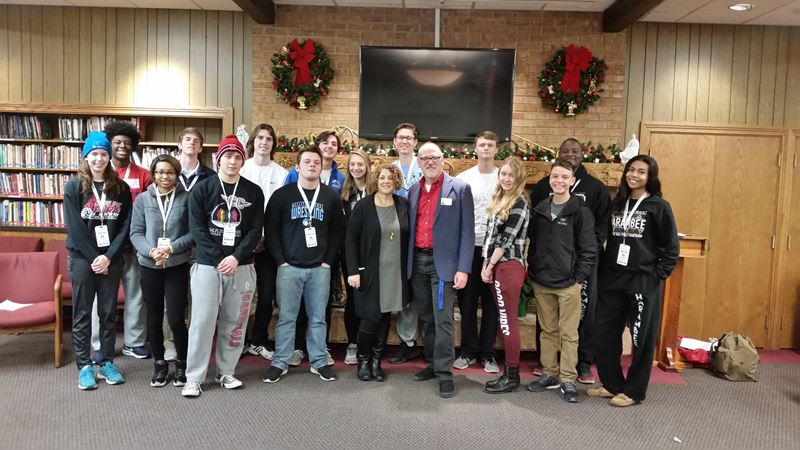 On Tuesday, our class took a visit to the King's House, which is a peaceful retreat to get away from the community and technology. We spoke with the Director, Deacon Doug Boyer about how taking a break from your busy life and setting some time aside to find yourself is really important. We also heard from Mrs. Geri Boyer about the importance of meditation and how to cope with stress. We took some time to meditate and found it to be very beneficial and relieving; hence the reason for our very casual attire that day. Doug and Geri both stressed the importance of a good balance between physical, mental, and spiritual health, and they believe the King's House is a great place to work on mental and spiritual aspects.
Written by Devin Alexander
---
Around the Fountain: A Belleville CEO Experience
Conference & Trade Show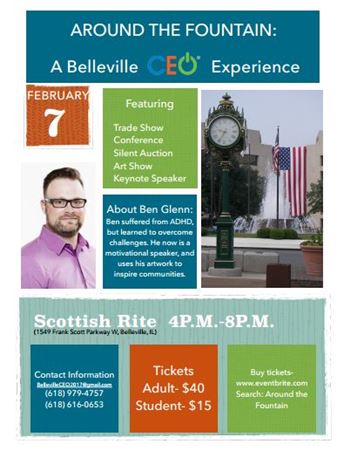 Belleville CEO's purpose is to encourage a closer community and to inspire the success of small businesses. Although our class consists of high school seniors, we are driven entrepreneurs that see the untapped potential of this city- potential that we wish to bring out in our second annual class business by giving you a chance to network and market your business. This year we are hosting a business conference with our inspirational keynote speaker, the artist and entrepreneur Ben Glenn. Around the Fountain is the experience we are offering to unite the business community while creating lifelong connections that will benefit Belleville as a whole. We offer a plethora of options to be involved, so don't miss a chance to be successful and buy your tickets today!
The Students of Belleville CEO, Class of 2017
Thank You to our Current Sponsors
We would like to thank our current GOLD Sponsors:  HomeBrite Ace Hardware (Downtown Belleville), CliftonLarsonAllen, Sonoma Capital, LLC, Precision Practice Management and Greensfelder, Hemker & Gale, PC.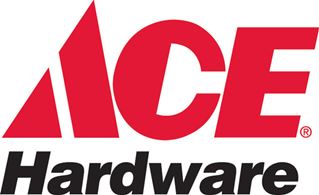 Belleville CEO would like to thank our current SILVER Sponsors:  Kaskaskia Engineering, FKG Oil/Moto, Neptunes Ocean World and Memorial Hospital.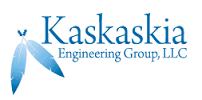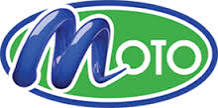 Neptunes Ocean World

Next, we would like to thank our current six BRONZE Sponsors:  Holland Construction, Empire Comfort Systems, LeChien and LeChien, J.T. McDermott Remodeling Contractors, Lisa Safarian and Egyptian Stationers.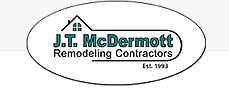 Lisa Safarian

Belleville CEO would also like to thank our current booth sponsor:  Papa Murphy's

Several companies who have already donated items to the Silent Auction:
HomeBrite Ace Hardware (Downtown Belleville)
Botantical Gardens
Slackers
The Abbey
Ace Hardware (West Belleville)
Family Video
Hilton Hotel
---
Buy Your Tickets Early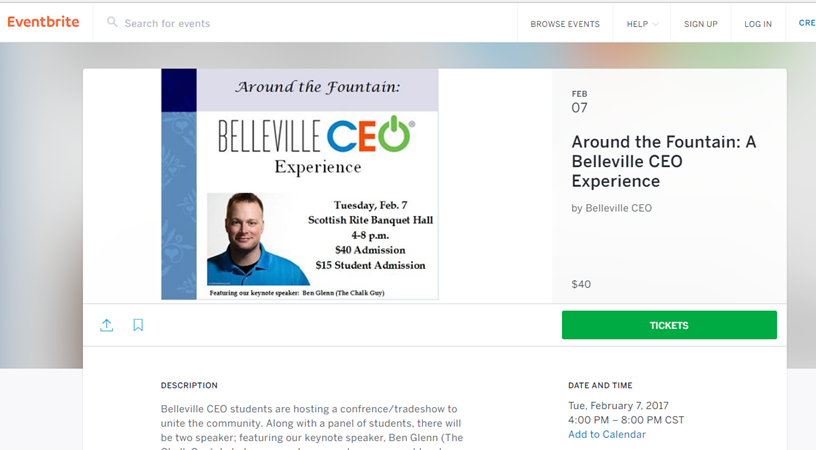 Eventbrite snapshot
Tickets are NOW available through EventBrite.com with search words, Around the Fountain.  
Ticket Price:  $40 
Student Price:  $15  (email BellevilleCEO2017@gmail.com  to get Promotional code)
The conference and trade show will be a time to network with other business people in the community.  The keynote speaker for the evening will be Ben Glenn, the Chalk Guy. Mr. Glenn is a motivational speaker who uses his artwork to inspire communities.   If you have never seen Mr. Glenn speak, then be ready to be energized and uplifted by his stories about obstacles that he has overcome during his life.  At the end, you will be in awe of his creative ability to turn an empty black canvas into a beautiful masterpiece within a few minutes.  Perfect theme for the Belleville CEO's first business conference, Around the Fountain.
We are also pleased to announce that Mrs. Geri Boyer will be speaking at our business conference.  Mrs. Boyer is the co-founder and managing partner of Kaskaskia Engineering Group LLC.   Throughout her career, she has been very active in the Belleville community through her involvement in the Memorial Hospital Foundation Board, Belleville Chamber of Commerce, Government Affairs Committee, Belleville Main Street, and Catholic Urban Programs.  One of our favorites, of course, is her continued support as an investor as well as a CEO Board Member. 
Mrs. Boyer was named one of St. Louis' Most Influential Business Women in 2011, an award recognizing remarkable women in business. She was also awarded the 2011 Faith in the Marketplace Award by the Catholic Diocese of Belleville, the 2010 Phenomenal Women Award by the Center for Racial Harmony, the 2010 Women Influencing Now Regional Economic Development Award, presented by Winning Women, in conjunction with St. Louis County, the City of St. Louis, the Leadership Council Southwestern Illinois, the City of St. Charles and ClearChannel Radio. The Winning Women organization recognized Mrs. Boyer for her ongoing commitment to the development and prosperity of the City of Belleville, the Metro East, and the St. Louis Region. Mrs. Boyer, along with her business partner, also received the 2010 Smart Women, Smart Money Award from the Illinois State Treasurer's office.
Two great speakers as well as our very own CEO students in a panel style forum.  So don't delay...buy your tickets now and be part of this remarkable conference!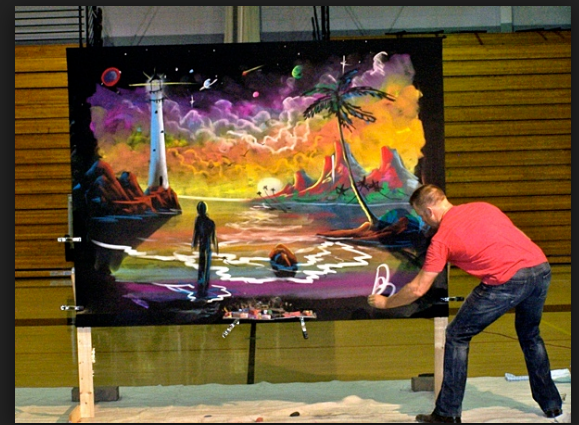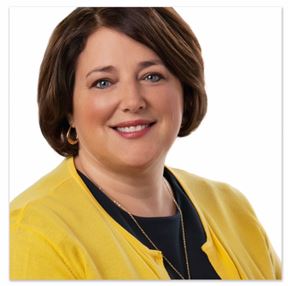 ---
Sponsorships Still Available
GOLD SPONSORSHIP - $450

Logo will appear in slideshow
Logo will be in program
Logo in weekly newsletter
Logo on website
Logo on gold banner
Logo on a chocolate fountain
Name announced
2 tickets
 Investing in your community
*Slide show will play during the event
*Banners will be displayed around the wall of the room
*Free tickets allow you to come and enjoy the event
*Names will be announced at the beginning of the event to thank the businesses for their investment
SILVER SPONSORSHIP - $300
Logo will appear in slideshow
Logo in program
Logo in weekly newsletter
Logo on website
Logo on silver banner
1 ticket
Growing your community
BRONZE SPONSORSHIP - $150
Logo will appear in slideshow
Logo will be in program
Logo will appear in weekly newsletter
Logo on website 
Supporting your community
BOOTHS - $300
Come to the event and listen to the speakers while being able to advertise for your business! Hand out samples and information while networking with potential business customers or partners.  
The booth includes:
 *Admission for two
*6 foot table included in price
SILENT AUCTION
 You can also contribute to the event by donating a basket to the silent auction. Donations are appreciated and the donor's name or logo will be on the bid sheet.
 **Please do not include alcohol in a donated basket**
If You Are Interested In Any Sponsorships, Booths, Or Contributing To The Silent Auctions, Please Contact Carson Gamboe At (618) 604-8211 Or Cgamboe@Gmail.Com.
---
---
Student Journal Highlights for this week
---