Finalizing Our Portfolios
CEO Guest Speakers
---
Belleville CEO Trade Show Coming Soon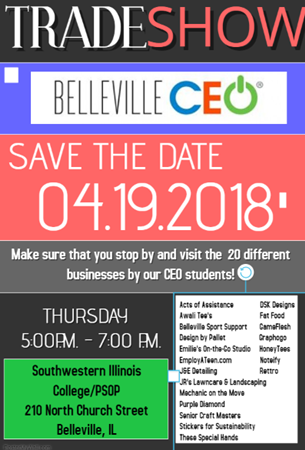 The Belleville CEO students would like to invite you to their Trade Show on April 19 from 5:00 p.m. to 7:00 p.m. at the Southwestern Illinois College PSOP Center (210 North Church Street, Belleville).  There will be 20 businesses showcased that evening such as:
Acts of Assistance
Awali Tee's
Belleville Sport Support
Design by Pallet
DSK Designs
Emilie's On-the-Go Studio
EmployATeen.com
Fat Food
GameFlesh
Graphogo
HoneyTees
J&E Detailing
JR's Lawncare and Landscaping
Mechanic on the Move
Noteify     

Purple Diamond
Rettro
Senior Craft Masters
Stickers for Sustainability
The Second Hand
---
Mentoring Monday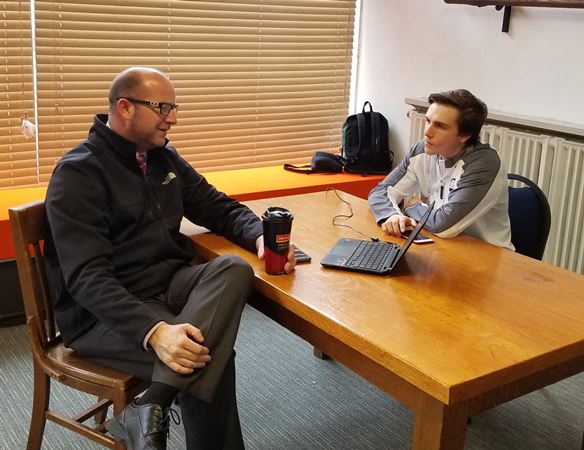 Belleville CEO hosted another Mentoring Monday.  We wanted to thank the following mentors for stopping by and reviewing their mentee's portfolios:  Brian Mentzer, Matt Warren, Josh Lane, and Brett Baltz.  Before Brian Mentzer met with his mentee, James Wiegers, he discussed briefly the importance of time management with the group.  We also want to congratulate Dr. Mentzer again on completing his dissertation this last week. 
---
Final Review of our Portfolios
JoAnn DiMaggio-May and Adrine Krikorian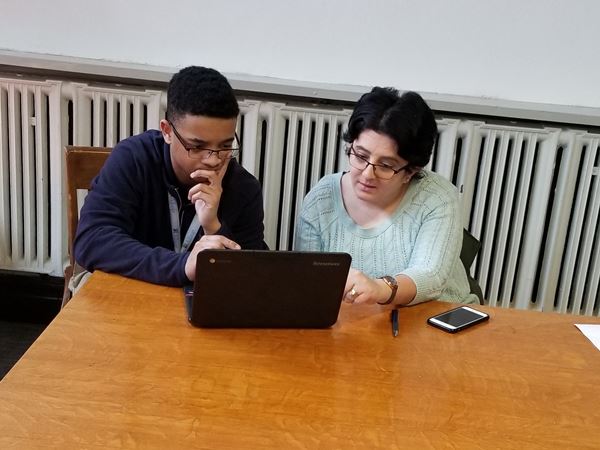 Kaleb Leatherman getting some help from Mrs. DiMaggio-May.
On Tuesday, Mrs. JoAnn DiMaggio-May and graduate student, Ms. Adrine Krikorian came to class to help review the students' final portfolios one last time.  The Belleville CEO students would like to thank Mrs. DiMaggio-May and Ms. Krikorian for all of their time they spent with us on our portfolios.
---
Understanding Your Audience During an Elevator Pitch
Kurt Artinger, CEO of Artigem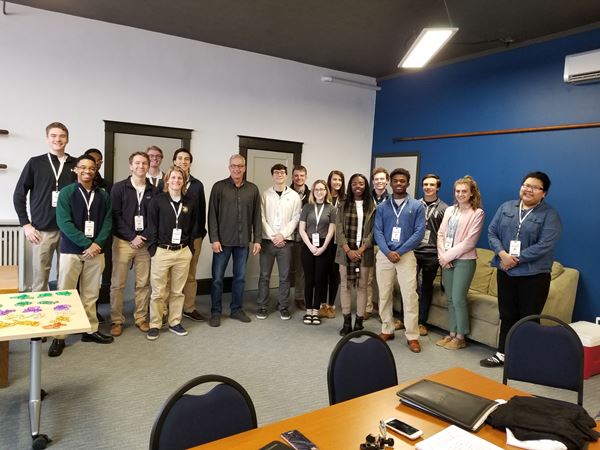 On Wednesday, Mr. Artinger stopped by to talk to the Belleville CEO students about their upcoming elevator pitches.  Although this may seem like a generic elevator pitch that they will be giving next Thursday, he told the students that they should always understand their audience before they give their pitch.  One must understand their need so you can tailor make your pitch to show that you can solve their problem.  Thank you, Mr. Artinger, for stopping by and sharing your knowledge with us.   
---
Practicing our Elevator Pitches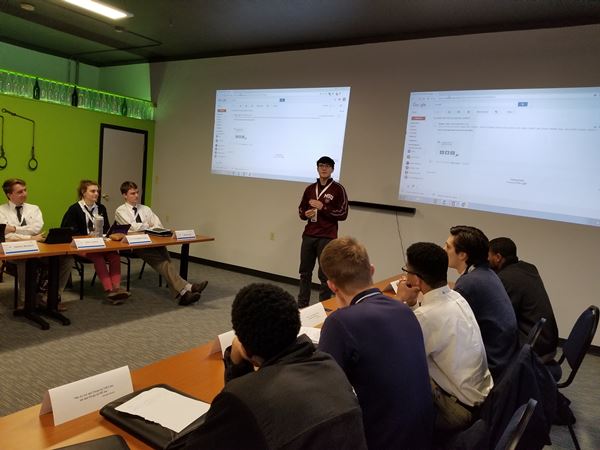 After Mr. Artinger left, three Belleville CEO students volunteered to practice their elevator pitches in front of the group.  Thank you to Ian Hass, Antwan Davis and Jimmy Monken.  It allowed their classmates to reflect on their pitch and give them advice on how it could be improved.
---