Twenty Businesses Showcased at the Third Annual Belleville CEO Trade Show
---
Sips & Splatters
David and Chris Brandt, Owners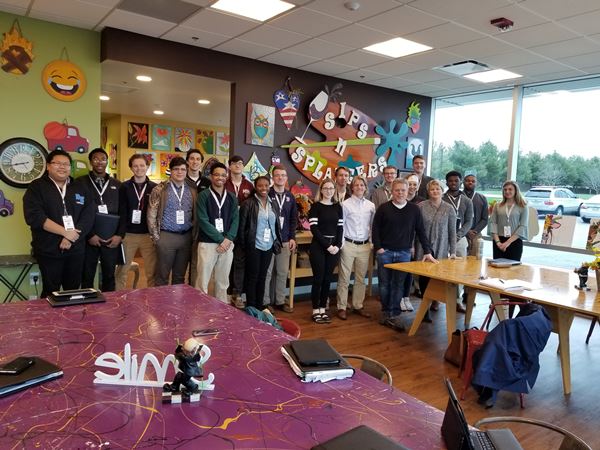 On Monday we met at an interesting business called Sips and Splatters. Sips and Splatters is a place that provides all of its customers with a unique experience in painting. The studio itself is lively and is very colorful which is great for helping with your creativity. Mr. and Mrs. Brandt have done an excellent job with their business.  They shared how they even auditioned for Shark Tank.  I'd like to thank Mr. and Mrs. Brandt again for spending the morning with us. We really appreciate the experience.
 Written by: Tristen Missey
---
Trade Show Set Up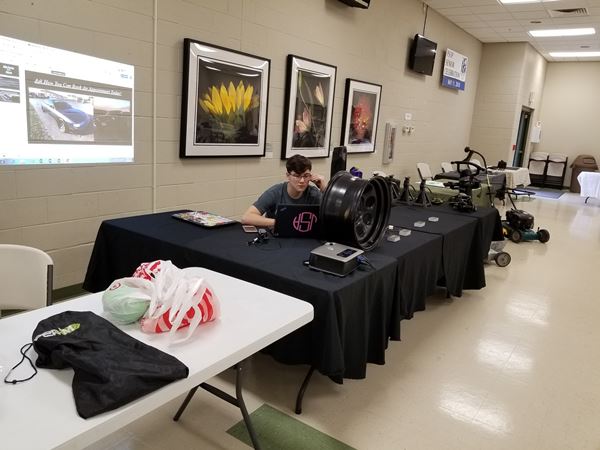 The Belleville CEO students set up their trade show booths from 8:00 a.m. to 2:00 p.m. on Thursday.  We would like to thank Ms. Cheryl Brunsmann, PSOP Executive Director for hosting the Third Annual Belleville CEO Trade Show at Southwestern Illinois  College/PSOP.
---
More Trade Show Set Up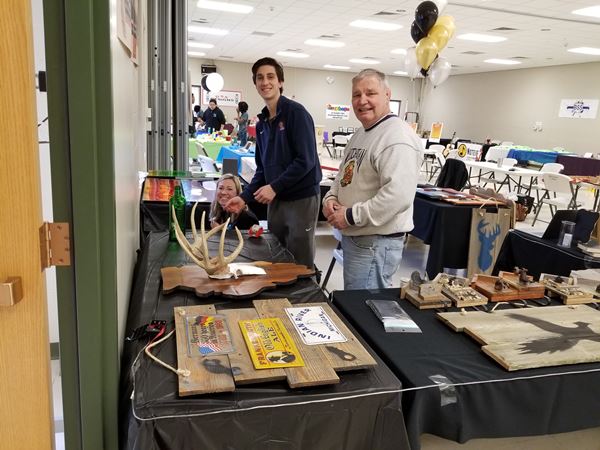 Belleville CEO student Nick Lippert putting the final touches with the help of craft master, Fred Hoef and his aunt, Julie Naylor.
---
---
More Belleville CEO Students and Their Businesses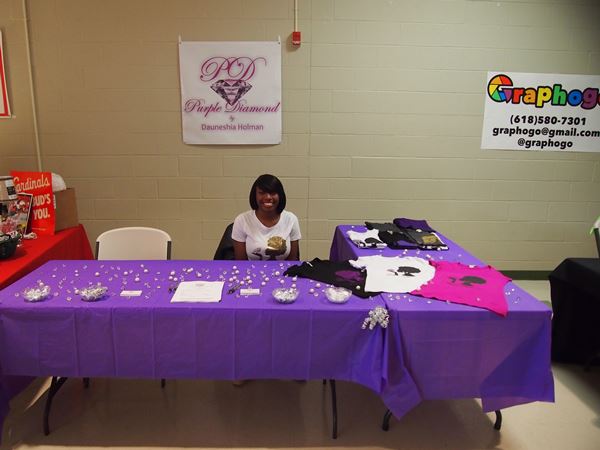 CEO Dauneshia Holman and her business, Purple Diamond
---
More Belleville CEO Students and Their Businesses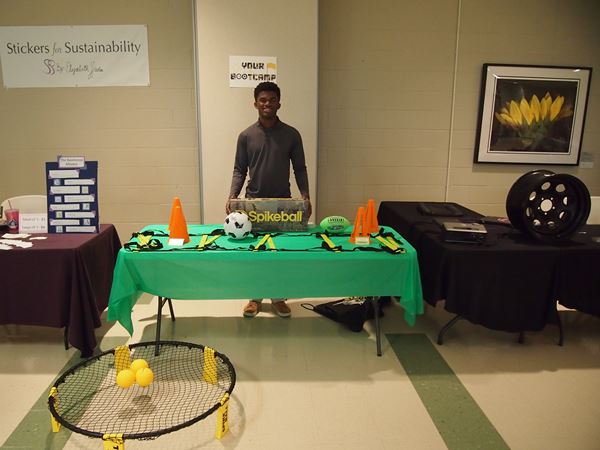 CEO Cam Wicks with his business, Your Mini Boot Camp
---
Mentors Stop By to Support CEO Students
Jacob Gall with his mentor, Mike Marchal
Many of the mentors stopped by to give their mentees a pep talk and make sure that they were ready for the public.  We would like to thank our 2017-2018 Belleville CEO Mentors who have put in many hours meeting and supporting these Belleville CEO students throughout the year.             
| | |
| --- | --- |
| Business Mentor | Student |
| Dan Lovekamp   | Antwan Stith |
| Geri Boyer   | Brett Rowe |
| Diana Voegele  | Cam Wicks |
| Tyler Douthitt   | Daniel Stovey |
| Renae  Eichholz   | Dauneshia Holman |
| Alexa Callahan | Elizabeth Harla |
| Anne M. Koleson | Emilie Smyth |
| Nancy Schulte | Emmie Huynh |
| Dave Zura  | Ian Hass |
| Mike Marchal  | Jacob Gall |
| Jimmy Monken  | Jake Roche |
| Pat Hill   | James Monken |
| Brian Mentzer | James Wiegers |
| Bob DeRousse  | John Lewis |
| Bobby Fritz | Josie Proffitt |
| Josh McDermott  | Kaleb Leatherman |
| Matthew Gilreath             | Martrell Robinson |
| Brett Baltz    | Nick Lippert |
| Josh Lane | Teonna Davis |
| Kevin Pesko | Tristen Missey |
| Matthew Warren  | Class Mentor           |
---
Starting Point for Diva's Night Out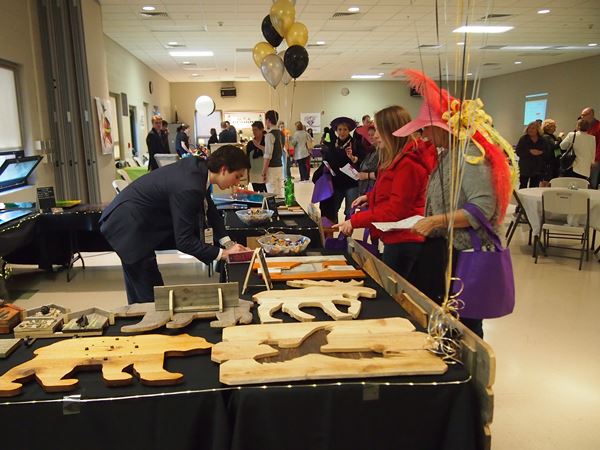 Belleville CEO students were delighted that Belleville Main Street – Diva's Night Out chose to start their evening at their Trade Show.  Their theme for the night was "Show us your creative Spring Bonnets!"  We would like to thank Belleville Main Street and the ladies who came through the trade show and showed us their support.
---
Belleville CEO Trade Show Attendees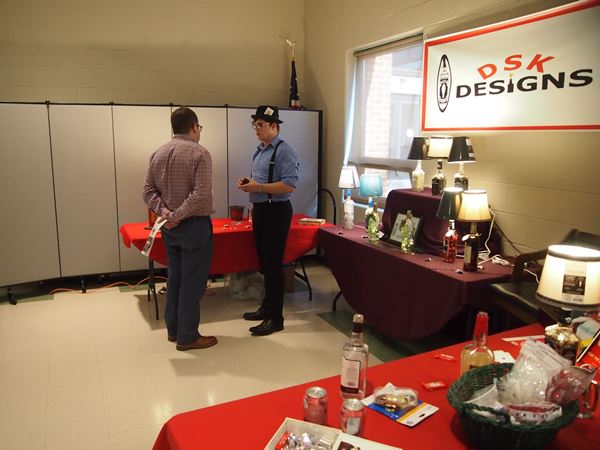 Daniel Stovey talking to Investor and Mentor Brett Baltz about his lamps.
The Belleville CEO students used their elevator pitch over and over again as they talked to the attendees about their businesses.  We would like to thank everyone who stopped by to support us!
---
---
Celebrating A Successful Trade Show
Geri Boyer, Belleville CEO Board President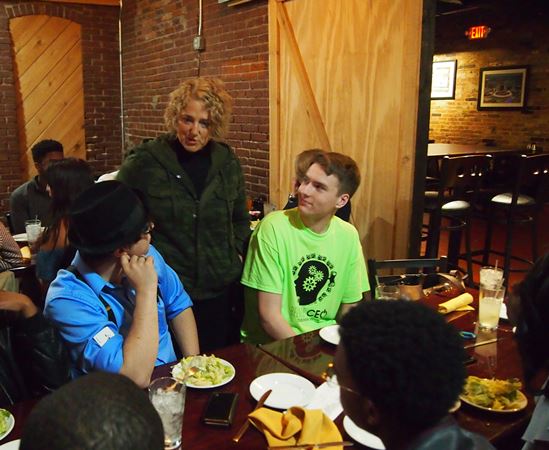 After tearing down and cleaning up, Geri Boyer asked the students to join her at Tavern on Main for a celebration of a successful trade show.  The students enjoyed pizza and salad as they shared stories of the night.  Mrs. Boyer, the Belleville CEO Board President, told the students that it is very important to take time to celebrate as a group when successes have occurred.  Thank you, Mrs. Boyer, for taking us out and celebrating our successful Trade Show!
---
Student Journal Highlights for this week
---